Now in its 64th year, the longest consecutively run marathon in the UK and 25th in the world was not going down without a fight. With plenty of covid safe measures in place the race had a very different feel from previous years with Storm Alex joining the show to top it off. Another race which had a different feel was London Marathon with athletes given the opportunity to run a unique virtual event, coincidentally on the same day. Gill Shaw, Tim and Abi Keyte, Hayley Baxter, Ross Wilkes and Stuart Backhouse combine the two races while Beverley James, Sarah Sharpe, Bridget Keyte, George and Tarnia Butler and Zoe Sherwin did their own solo runs to complete the distance, most using the cycle track system from Cowes to Sandown.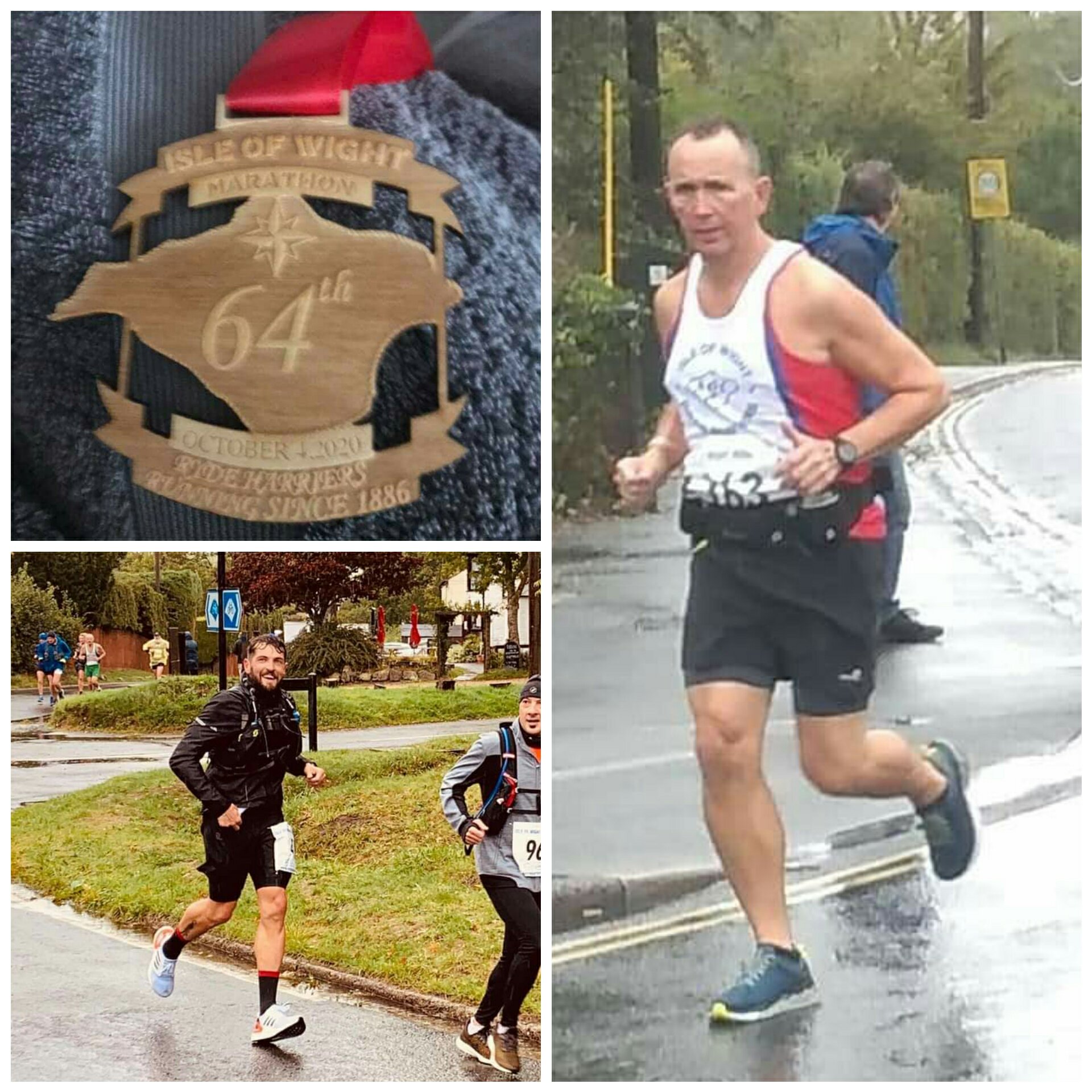 With the IW marathon route taking its usual way from Cowes down through to Porchfield and Shalfleet before looping back at Yarmouth via Thorley and Wellow its usually challenging without the added heavy rain and wind. 'When i was in the starting pen frozen in my Road Runners vest i wondered what Id let myself in for' admitted Carolyn Littleton. With plenty of support round the course our runners found the strength to keep on going though as they chipped away at the miles. 'I passed through the halfway slower than I did in 2018 but i maintained my pace in the second half. The support from club members and family were a huge help' said Giorgio Marinelli. Then came the hard part, during the return leg the field tends to disperse into ones and twos making large sections of the course very lonely. The final 10km then becomes increasingly hilly before the final push. 'In a way the horrible weather made it better, we were focusing on the rain rather than the run!' said Abi.
First home was someone who was never going to be put off by a storm, in fact he'd probably enjoy it more. Stuart Backhouse crossed the line in 3.18 and getting 17th overall. Not far behind was Ross Wilkes knocking 7 minutes off his PB in 3.20 and Simon Paul on his debut marathon in a fantastic 3.46 making up the mens A team which took 2nd place. For the ladies Hayley baxter made the top 5 in 3.32 and got 2nd in her age with Polly Segar knabbing 1st place in her age in 3.57 and Zoe Elliot in 4.04. Our ladies A team also got 2nd place. Steadily our runners battled their way up Pallance to home. Steve Apsey and Simon Randall both made it sub 4 hours followed by Giorgio bagging a 14 minute off PB in 4.06 and Kate Paul completing her first in 4.12. Then came the Keytes in 4.13 with Abi not only doing her first marathon but making 1st junior female and even broke the course record for her age! Incredible effort. Gareth Driscoll and Carolyn both ran their first marathons with Carolyn getting 2nd in her age category. Marathon vet Steve Hickman came in 4.38 with Gill Shaw completing her first for the distance getting 2nd in her age category too!
In the VLM our runners navigated their courses, with some flooded, in brilliant times. Zoe Sherwin got 4.45, Sarah Sharpe and Bridget got brilliant 5.05 and 5.13 times respectively with Beverley James taking a massive 12 minutes off her PB in 5.49 with the Butlers George and Tarnia grabbing 7.45.
Brilliant effort everyone, you all really did the club proud! With people doing their first marathons or getting PBs on that course, imagine what you can doing on a flat sunny route. Hopefully 2021 will bring some even more incredible marathon results and achievements!
Such a fantastic effort everyone