7.30am Cowes floating bridge.
5 teams are poised to embark on a 70 mile round trip. That will see 80 runners change their self selected batons 50 times, clock up over 560 miles and take just shy of a million steps between them. Quite a feat of organisation considering it's an officially unofficial, unmarshalled self navigating event.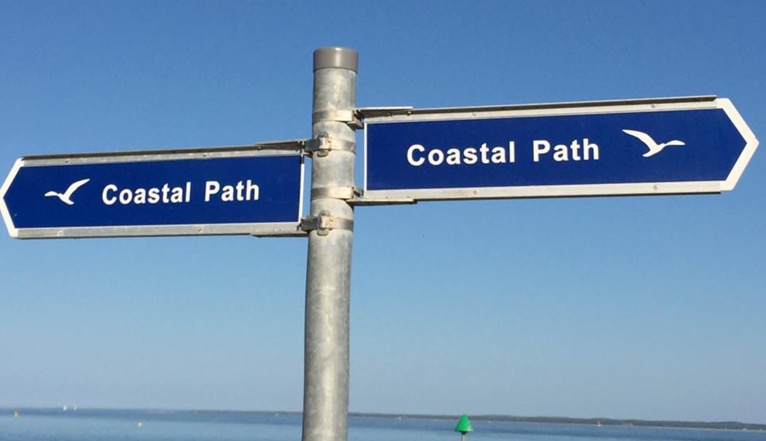 "It's not a race! It's just for fun" Cherry Owen reminds all the starters as they line up grasping their "batons" (i.e. rubber chickens, squeaky mobile phones etc) After all it was all her idea. To run the perimeter of our sunny island along the coastal path in a relay, with set changeover points dividing the journey into 10 legs, until it reaches its conclusion on the other side of the floating bridge in East Cowes.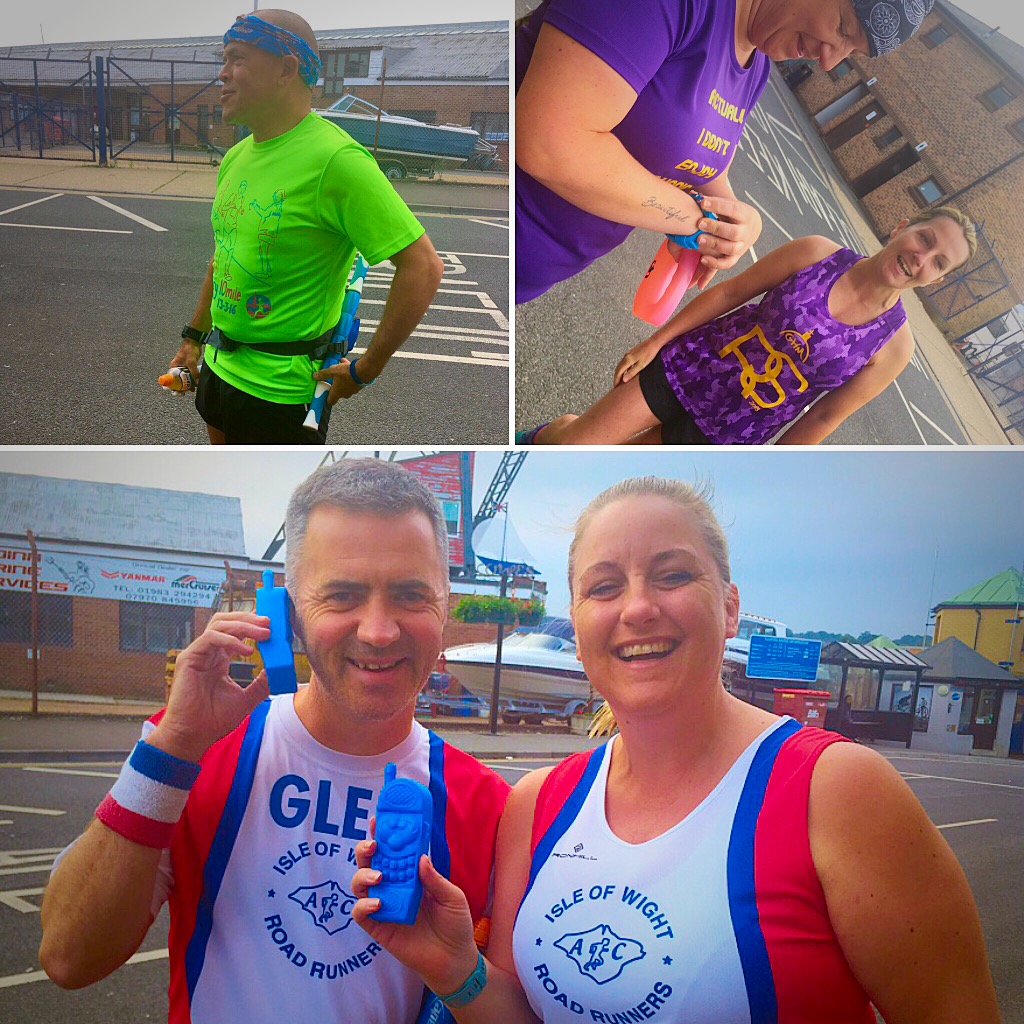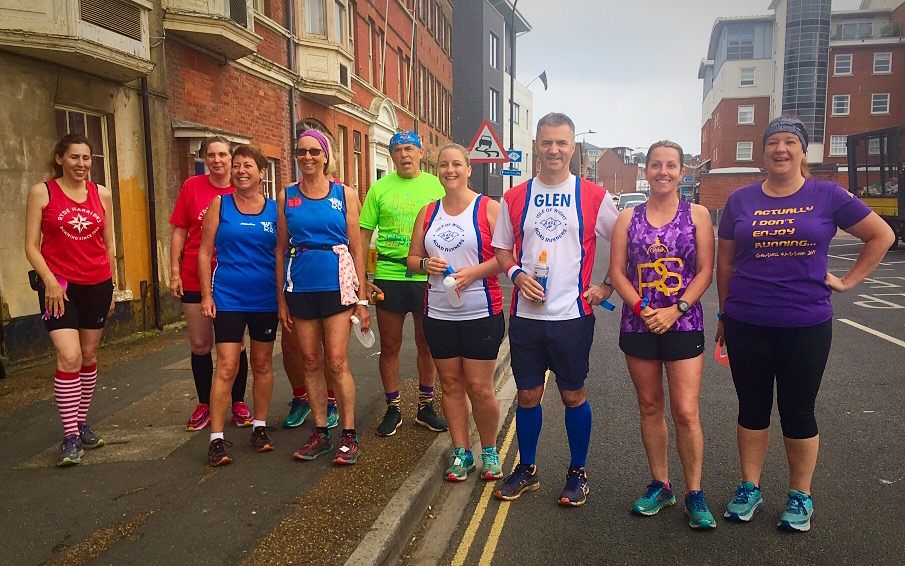 And off they went. Teams from West Wight Roadrunners, Ryde Harriers, Isle of Wight Road Runners and the RS division of the off road group Godshill Massive (or GHM as its more affectionately known), which is made up of members from all the other clubs and unattached runners. IWRR had decided that one of their teams would run at their own pace whilst the other would stick with "RS" for company and safety, as did the Harriers and West Wight teams. Not requiring any company however were 3 of our IWRR distance specialists. Dan Williams, Michael Coultrup and Bill Goozee all set out to run the entire distance.
Dan and Bill set out an hour earlier than the rest, with Michael embarking on his journey at the same time as the other teams.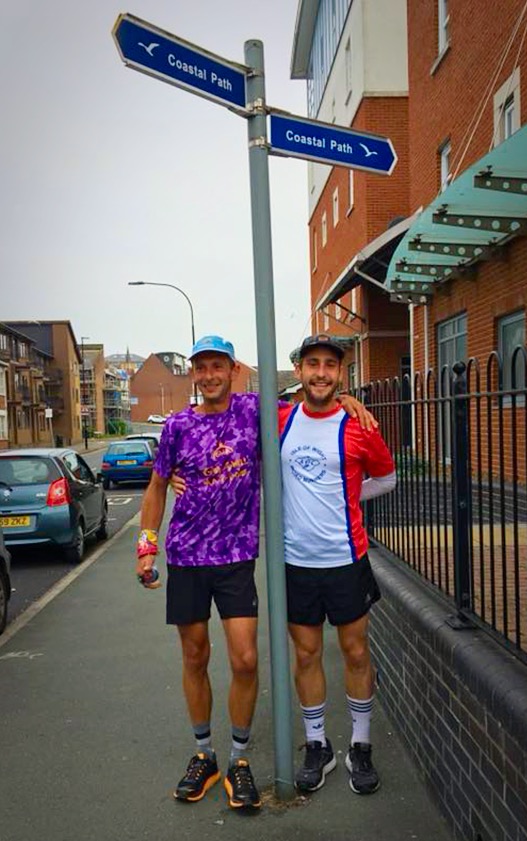 Despite feeling chilly on the startline, the sun started to peek through as soon as they set off on the first 6 mile leg toward the seafront and onward to Gurnard, Thorness and eventually their handover at Porchfield. Running for IWRR on this leg  were Glen Jones and Tanya Clifford, with Julia Parker appearing for GHM.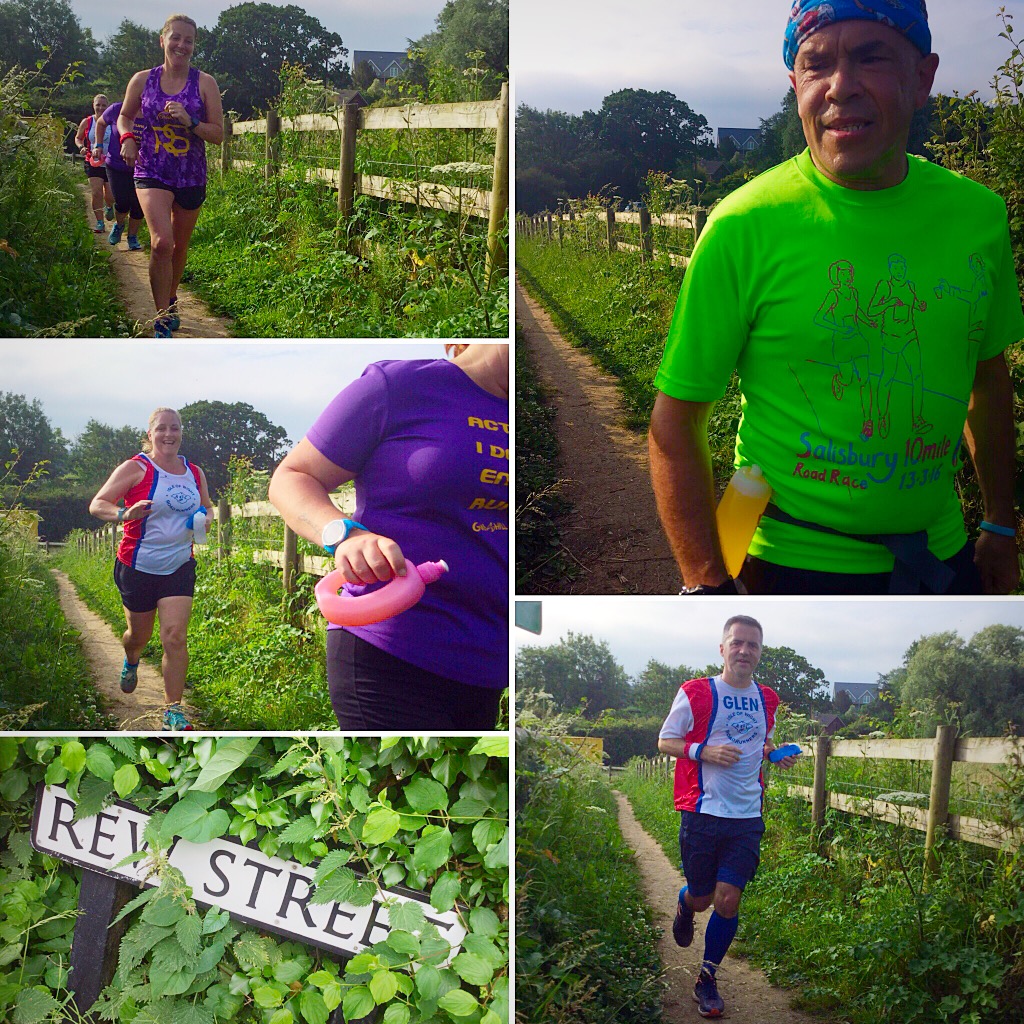 First to hand over was chairman Glen for IWRR determined to give his team a good start.
Glen continued on here running a second leg but switched over to the other IWRR team which ran with the RS Runners. Taking on the helm for the other team IWRR were Kev Winchcombe and Gill Bushell. This leg was complicated with its twists and turns, through the nature reserve. But it wasn't this factor which proved difficult for Kev. 
"Leg two was lovely. We ran together until about 7.5 miles when I pushed on from Gill to hand over the baton sooner. However at the top of the hill I missed the turning and went down Hampstead Road putting an extra 2.5 Miles on my route. Gill went the right way and beat me there and sent Jane on her way"
Gill handed over to Jane Andrew, whilst Glen handed his squeaky mobile phone to Matt Wade, with Tracey Houdoire running for RS, continued on to Totland.
"I loved that" said Tracey "we stopped for lunch at the beach afterwards"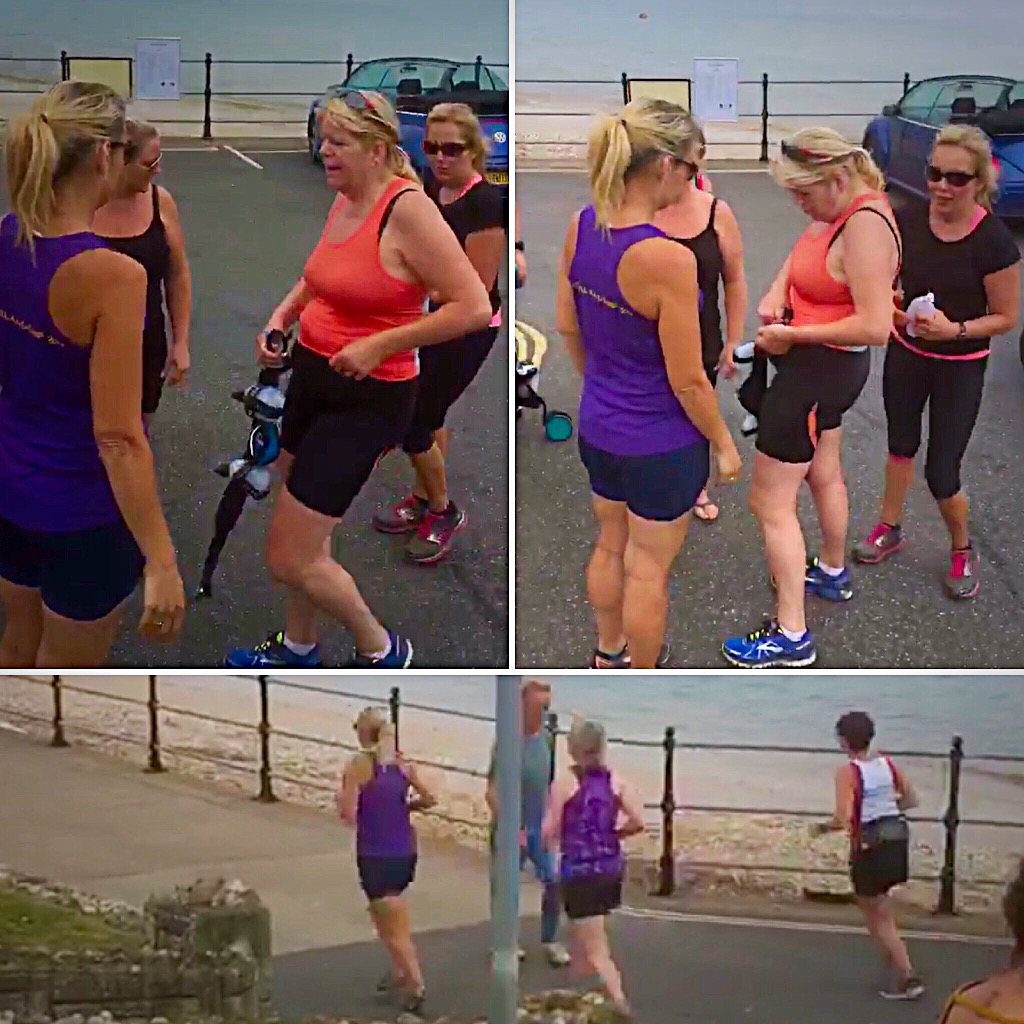 At Totland, the next runners were eagerly awaiting their team mates arrival. IWRR were still changing over first, with Danny Faulkner taking charge of proceedings for the faster paced team and Vice Chair Sarah Sharp for the other. Jess Hill and Ali Butcher were the purple representatives on this tough leg taking them up and over Headon Warren and Tennyson Down.
"I loved running over Tennyson, it's one of my favourite places" said Sharpie 
Danny handed over to Andy MacArthur whilst waiting at Freshwater Bay for Sarah was her husband Garry for the IWRR team and Stuart Backhouse and Giorgio Marinelli who ran the 10 miles of cliff paths down to Whale Chine.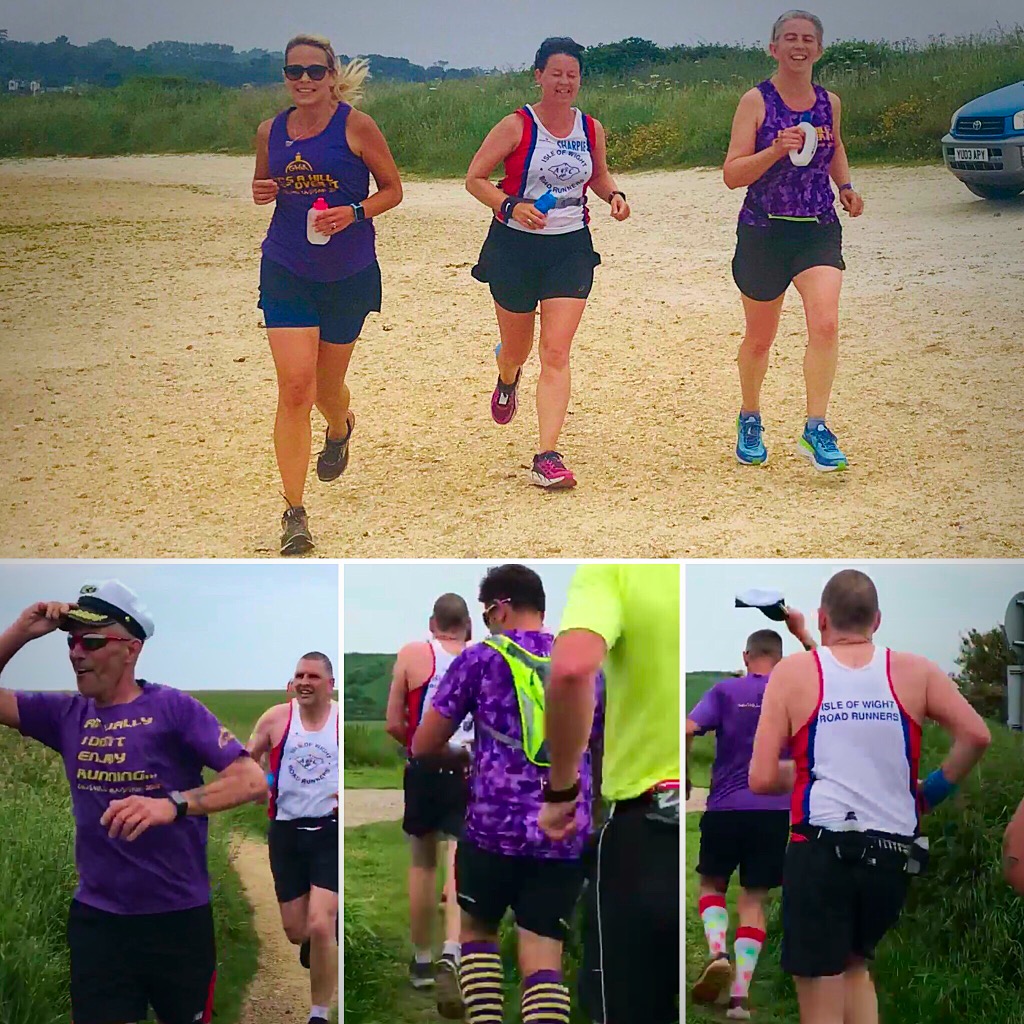 The thermometers had levelled out as cloud cover started to creep over, giving our amazing runners a comfortable air temperature given the time of year.
Still out in front IWRR Andy handed over to Rich Whittington, who had been driving around as support crew for most of the day as he set out on one of the trickier legs with the most elevation from Whale Chine through to Ventnor. For the other IWRR team Garry handed over to Zoe Elliott who ran with Fay Tosdevin, Caroline Curliss and Bridget Keyte for GHM. Stuart decided that 10 miles wasn't quite enough for him and accompanied Zoe and the girls in purple to Ventnor.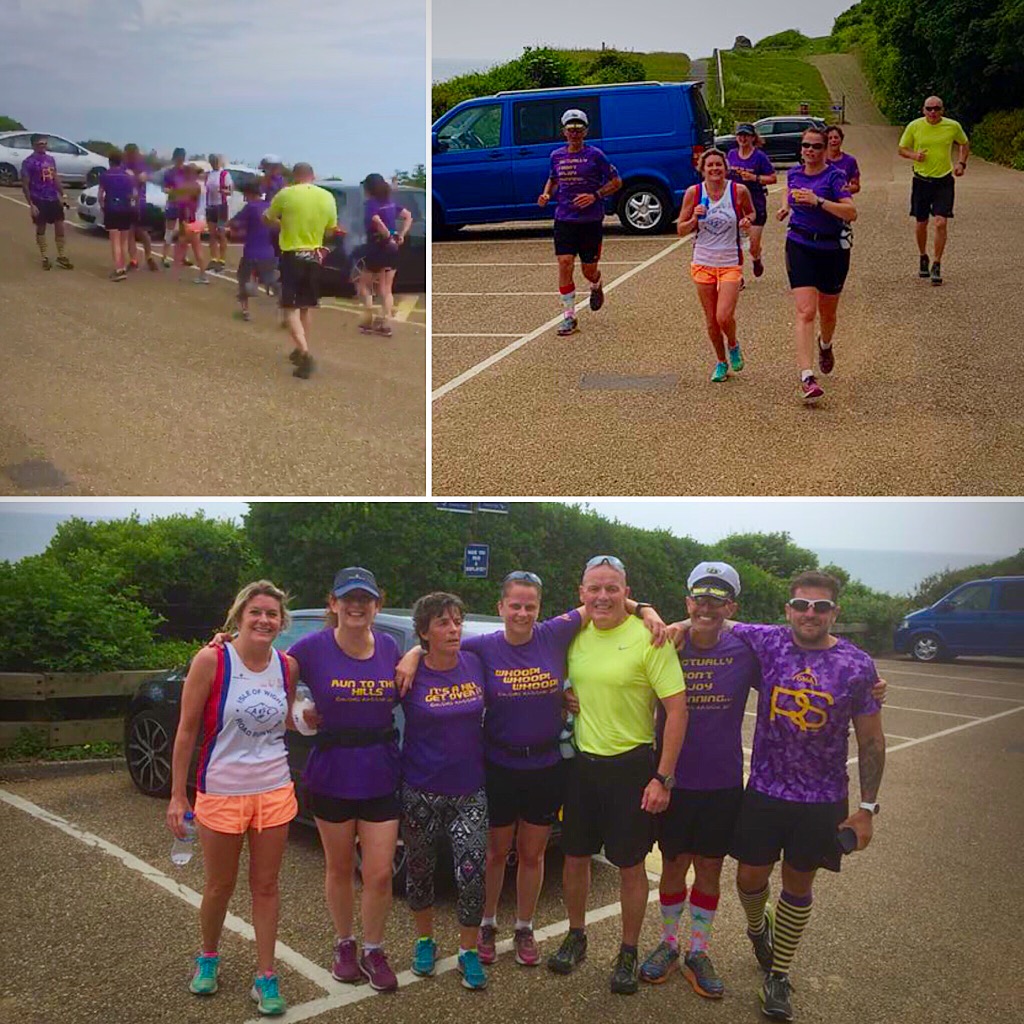 Rich passed over to Elaine Harris and Zoe to Lisa Upstell and the GHM ladies to Nick Carter as they continued to take the batons from The Spyglass through The Landslip and along the seafronts at Shanklin and Sandown to change at Yaverland. Lisa Upstell used the flatter sections to pull away from GHM at this stage putting the team into 4th.
"I'd forgotten how many steps there were through The Landslip" said Nick "it was so tempting to stop for cake at the tearoom! I could see Michael Coultrup in front of me. He was 50+ miles into his run and I still never caught him. What an inspiration!"
By now the teams were in the final quarter of the challenge. The leg from Yaverland through to St.Helens saw Hayley Baxter take the baton for the IWRR team in front, Callie Hatcher for GHM and Emma Ford handling the squeaky mobile phone for the other IWRR team, taking friend Aaron for navigational purposes.
"I would have got lost at least four times without him" she tells me "The views from Culver were amazing, we had such fun!"
They all successfully navigated themselves around to Tim Keyte, Sarah Holmes for IWRR and Pat Harris and Shannon Brennen for GHM waiting at the Duver. 
"I have absolutely no idea where I am going" exclaimed Holmsie "This could take a while" 
But she didn't get lost and neither did any of the others as they made their way to Ryde and then past Quarr Abbey to Fishbourne and the final change over.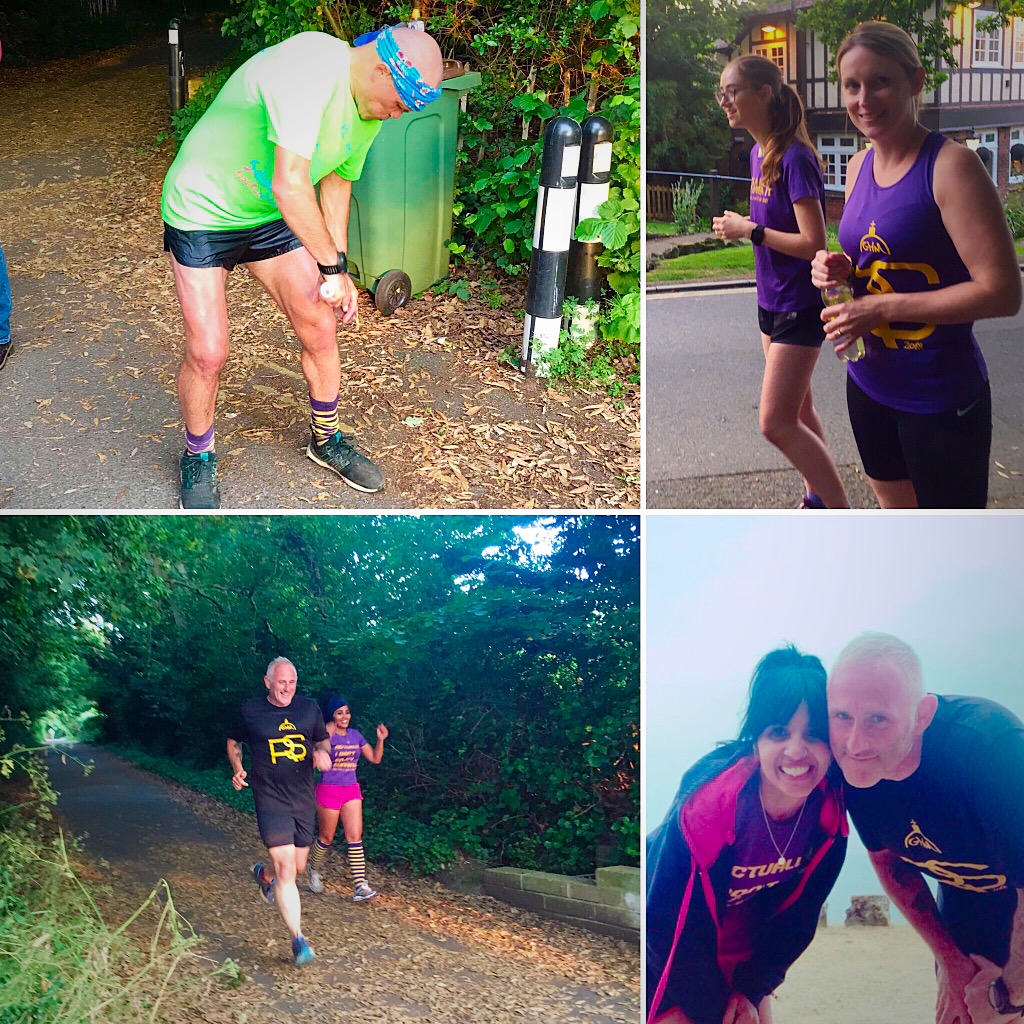 Steve Bennett took the baton for the team in front with Ian Dyer doing the honours for the other team. Abi Keyte & Kim Hulacka closed the bidding for the GHMers. 
Steve Bennett was the first runner home.
"It was funny coming first as no one was there at the finish yet!" He said "We must have all run it too quick haha! Luckily my partner Chris was there with the dogs to greet me"
Dan Williams was the next one in having run the entire course in just under 12 and a half hours.
"I've earnt a beer I think!" He said afterwards.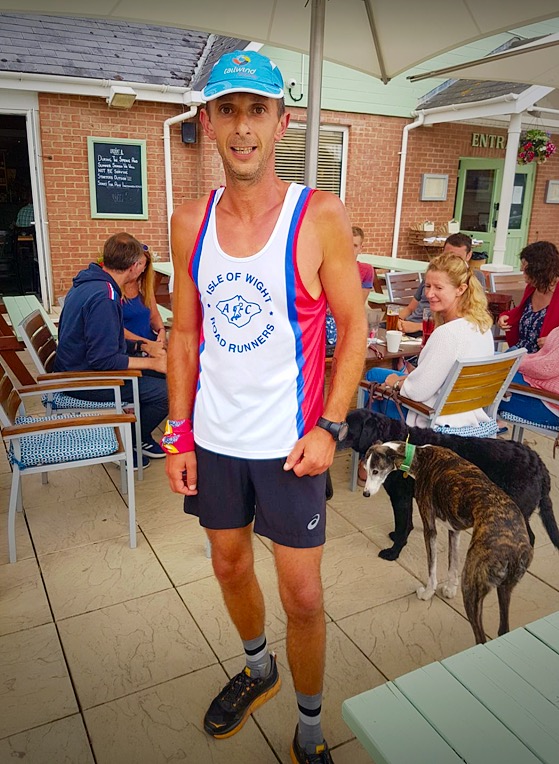 In they came, in ones, twos and threes, all with big smiles on their faces. Lots of fun and laughter along the way. Teamwork and cameraderie the order of the day and a fantastic turn out of Roadrunners spread across the 5 teams.
The biggest cheer of the day was saved for Michael Coultrup, who was the final person to make it to the finish having run the entire event solo and self supported. 14 hours of running behind him.
"Who's up for a run in the morning?" He quipped 
Massive thank you to Cherry Owens, Glen Jones & Pat Harris for their time organising this logistical endeavour. See ya next year!
Scores on the doors 
1- ISLE OF WIGHT ROADRUNNERS 
2- RYDE HARRIERS 
3- WEST WIGHT ROADRUNNERS 
4- ISLE OF WIGHT ROADRUNNERS 
5- GHM RS