7.30am
Cowes floating bridge.
8 teams are poised to embark on a 66 mile round trip. That will see 78 runners change their self selected batons 72 times over 80 legs, clock up 528 miles and take just shy of a million steps between them. And all on the hottest day of the year so far.
Quite a feat of organisation considering it's an officially unofficial, unmarshalled self navigating event.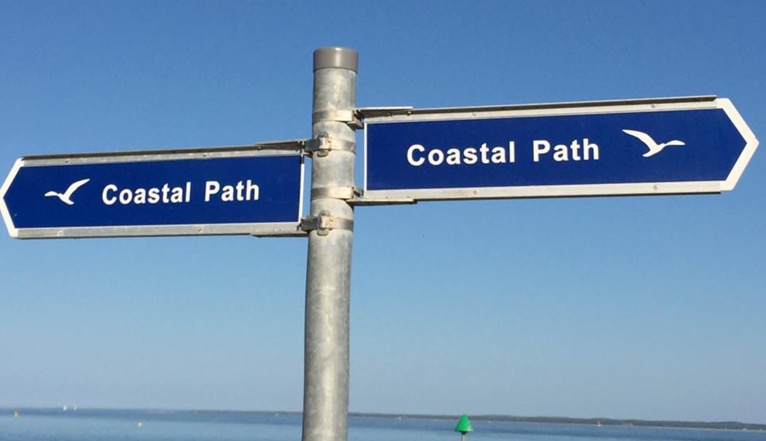 "It's not a race! It's just for fun" Cherry Owen reminds all the starters as they line up grasping their "batons" (i.e. rubber chickens, squeaky cakes and rubber cows) After all, it was all her idea. To run the perimeter of our sunny island along the coastal path in a relay, with set changeover points dividing the journey into 10 legs, until it reaches its conclusion on the other side of the floating bridge in East Cowes.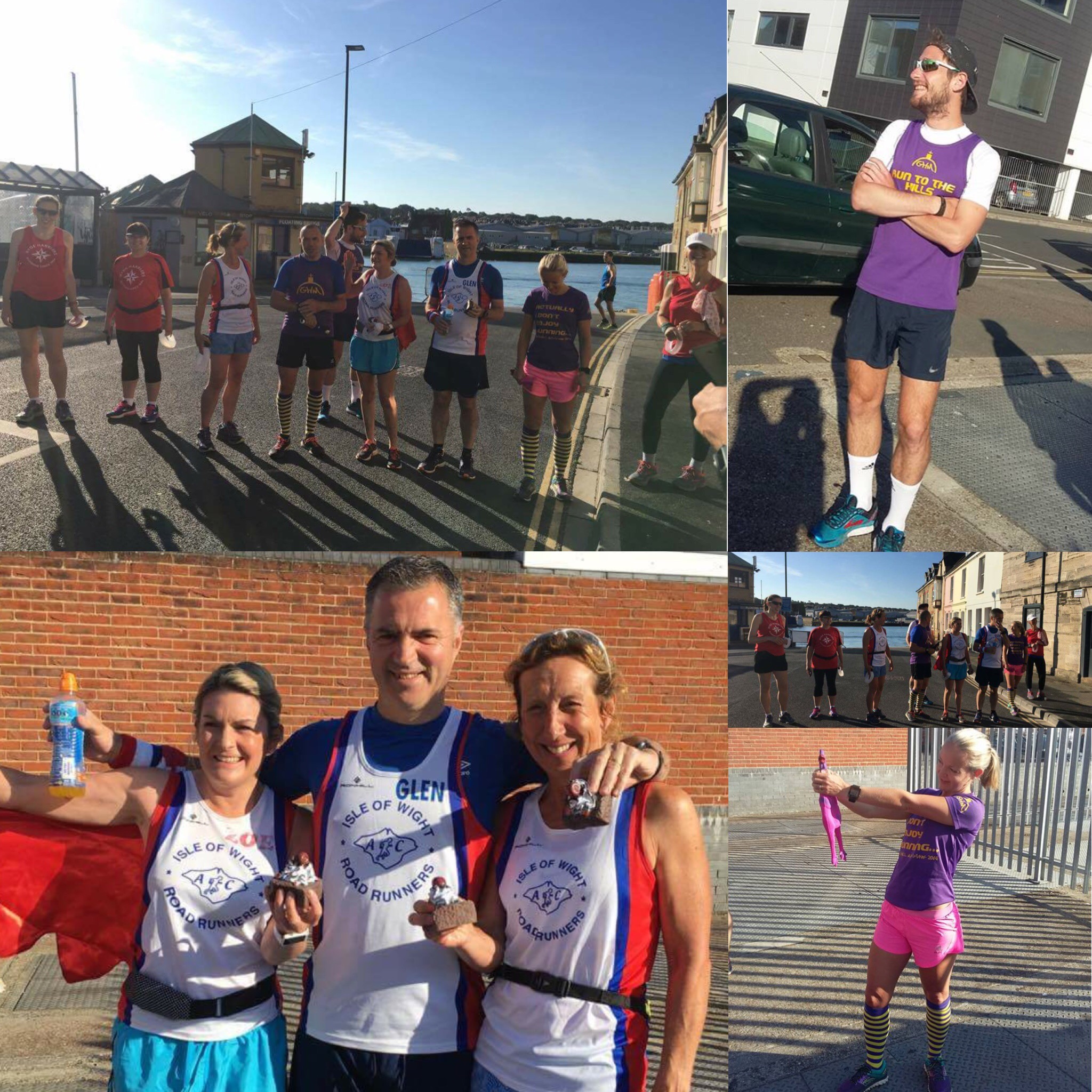 And off they went. Teams from West Wight Roadrunners, Ryde Harriers, Isle of Wight Road Runners and the rebellious off road group Godshill Massive (or GHM as its affectionately known) which is made up of members from all the other clubs and unattached runners. IWRR had decided that all 3 of their teams would stick together throughout the course of the relay for company and safety, as did the 2 Harriers teams and 2 of the 3 GHM teams.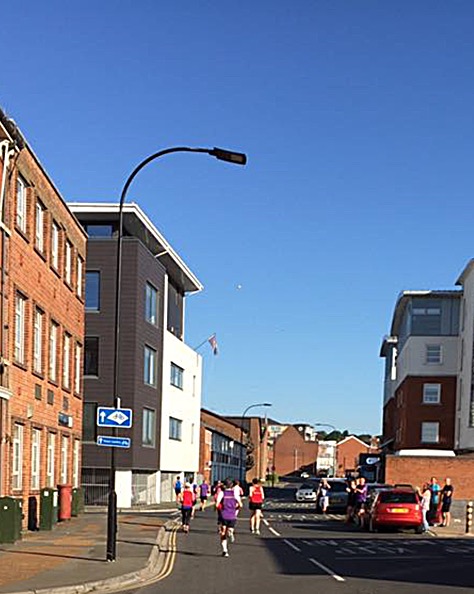 It was warm already despite the early hour as they set off on this 6 mile leg toward the seafront and onward to Gurnard, Thorness and eventually their handover at Porchfield. The IWRR running on this leg were Zoe Elliott, Glen Jones and Julie Salter, with Michael Coultrup, Bill Goozee and Sarah Holmes appearing for the renegade GHM.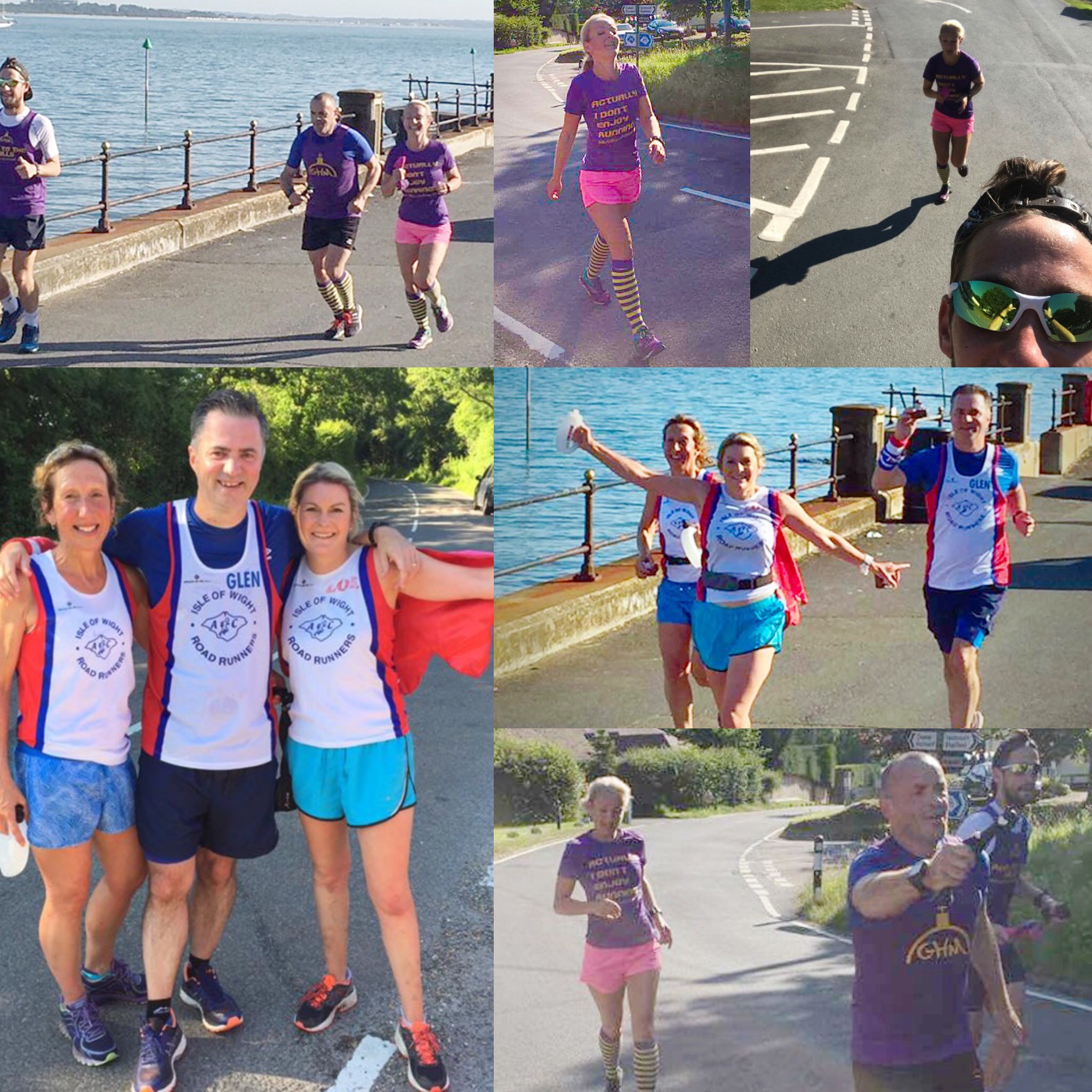 Next to take on the helms were Claire Jasper, Julia Parker and Jess Hill for teams IWRR and Julie's Ray and Rasmussen and Bill Goozee (doing a double stint) in purple. This leg was complicated as most of these runners discovered. With its twists and turns, through the nature reserve, most of these guys went a little awol here and there.
"I've run this bit before" said Julie Ray and it showed as only she and her fellow Julie were the only ones not to get lost.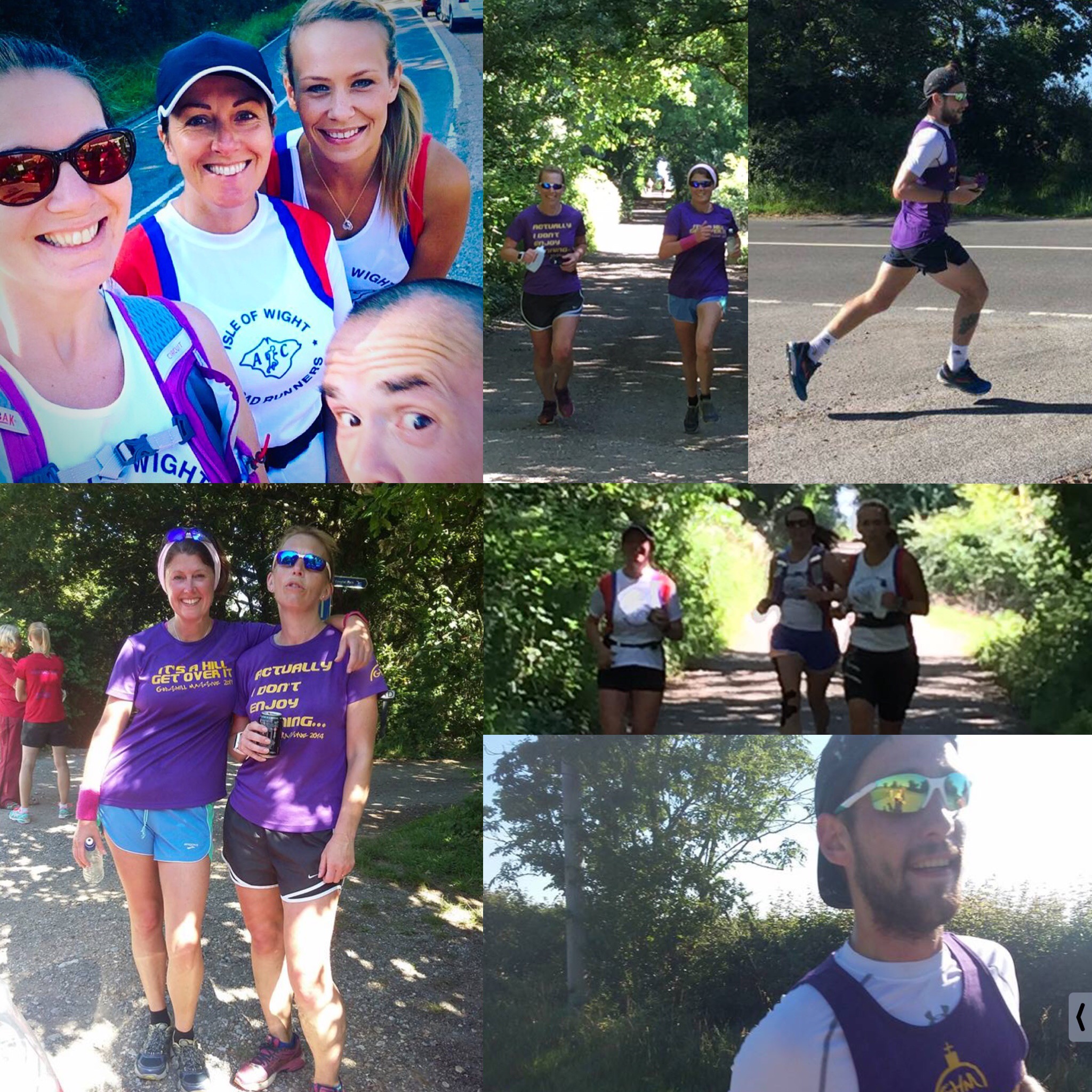 But eventually they all made it to Cranmore for the handover for leg 3. Waiting here were chairman Pat Harris, Matt Wade, Sue Hunter and Shannon Brennen for IWRR alongside Polly Segar for Cherry's Chums and Steve Horsey & Holly Newton for GHM..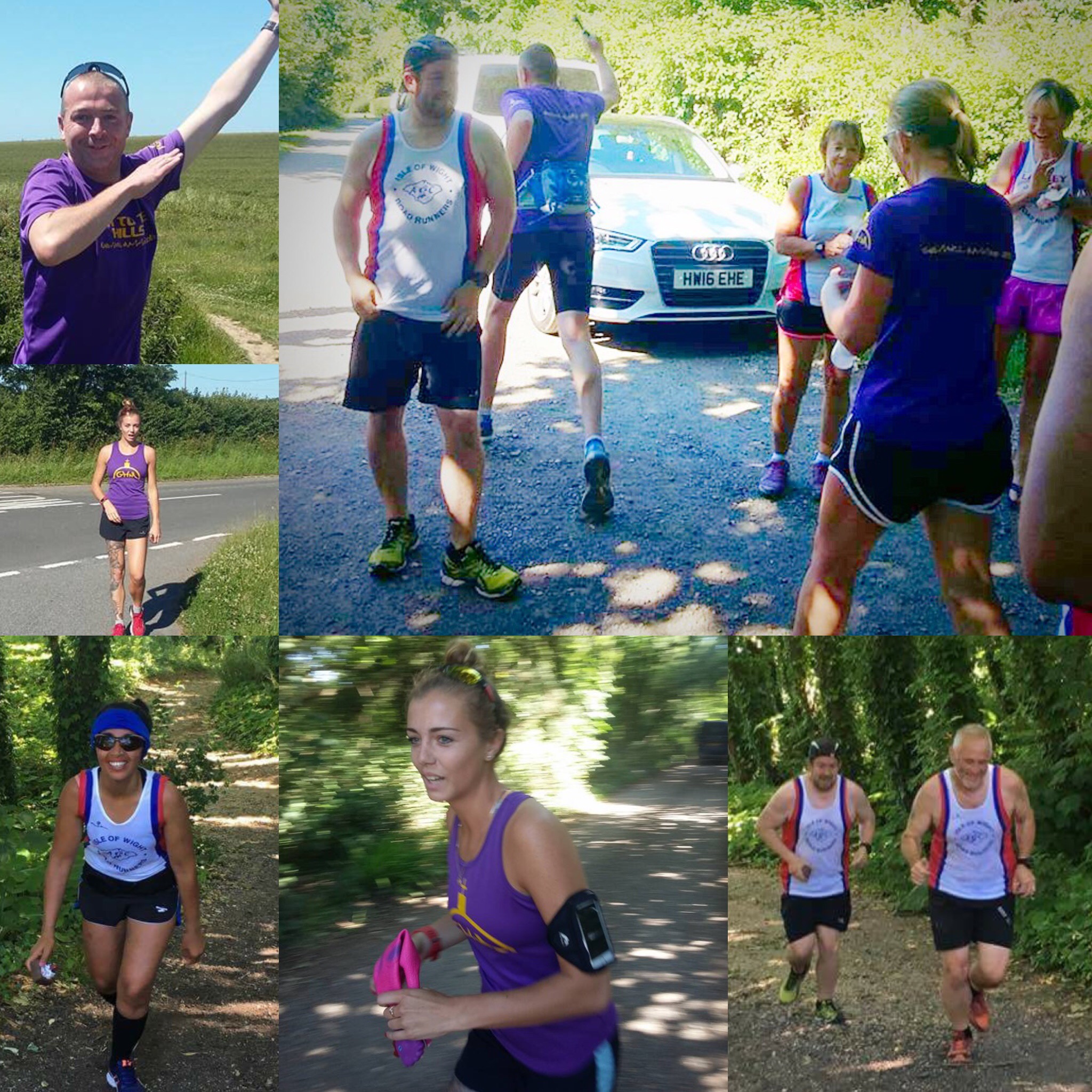 With temperatures already creeping into the 20s the runners were finding it tough.
"That was so hot, but we loved every second" said Shannon "even I broke into a sweat! and I never sweat!!!"
At Totland Beach, the next runners were eagerly awaiting their team mates arrival. GHM were still changing over first, with Dallas Price and Katherine King in situ. The temperature was now 24c and still climbing.
IWRR had our Vice Chair Sarah Sharp waiting alongside Bridget Keyte and Tanya Clifford all keen to get going.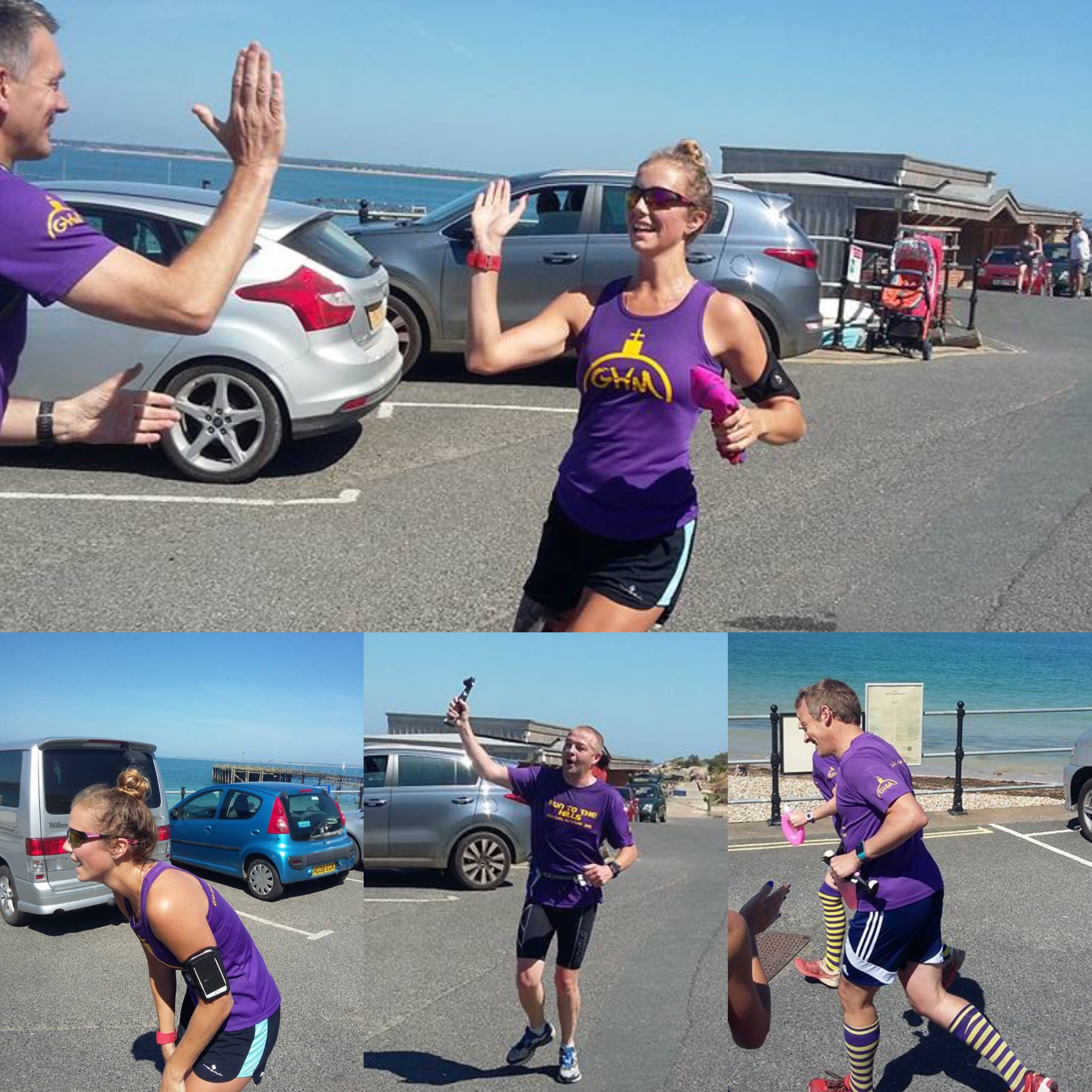 "It was boiling and no air either, I had a few moments where I thought I wanted to give up, but we got there" said Tanya
Get there they did, over the tough Headon Warren and Tennyson Down, for waiting at Freshwater Bay were Garry Sharp and Zoe Sherwin for the IWRR teams and distance kings Dan Williams and Andy MacArthur. They ran the cliff paths down to Whale Chine, all 10 miles of them.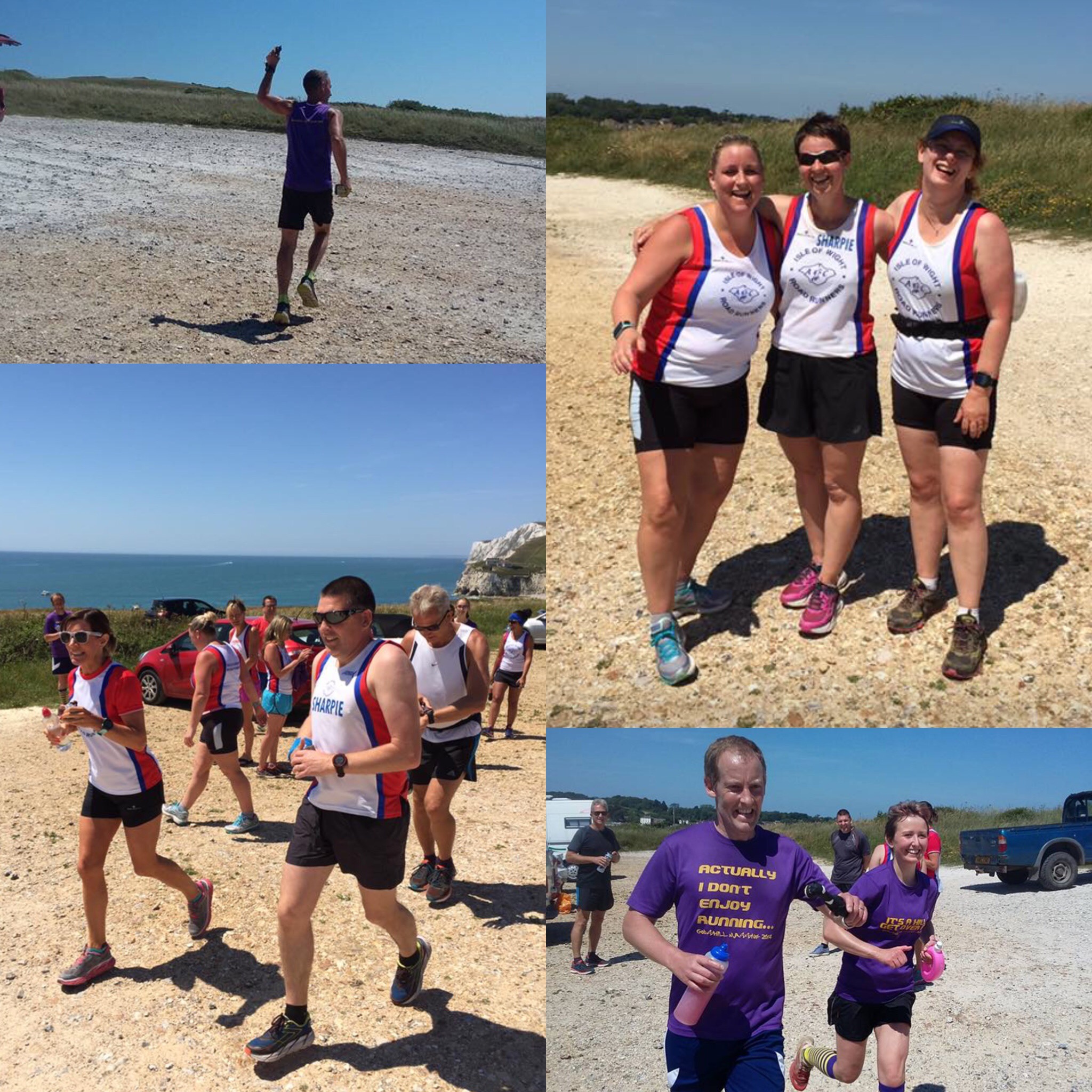 "The squeaky cake batons came in handy, we could check each other were still alive without having to talk haha!" Quipped Zoe.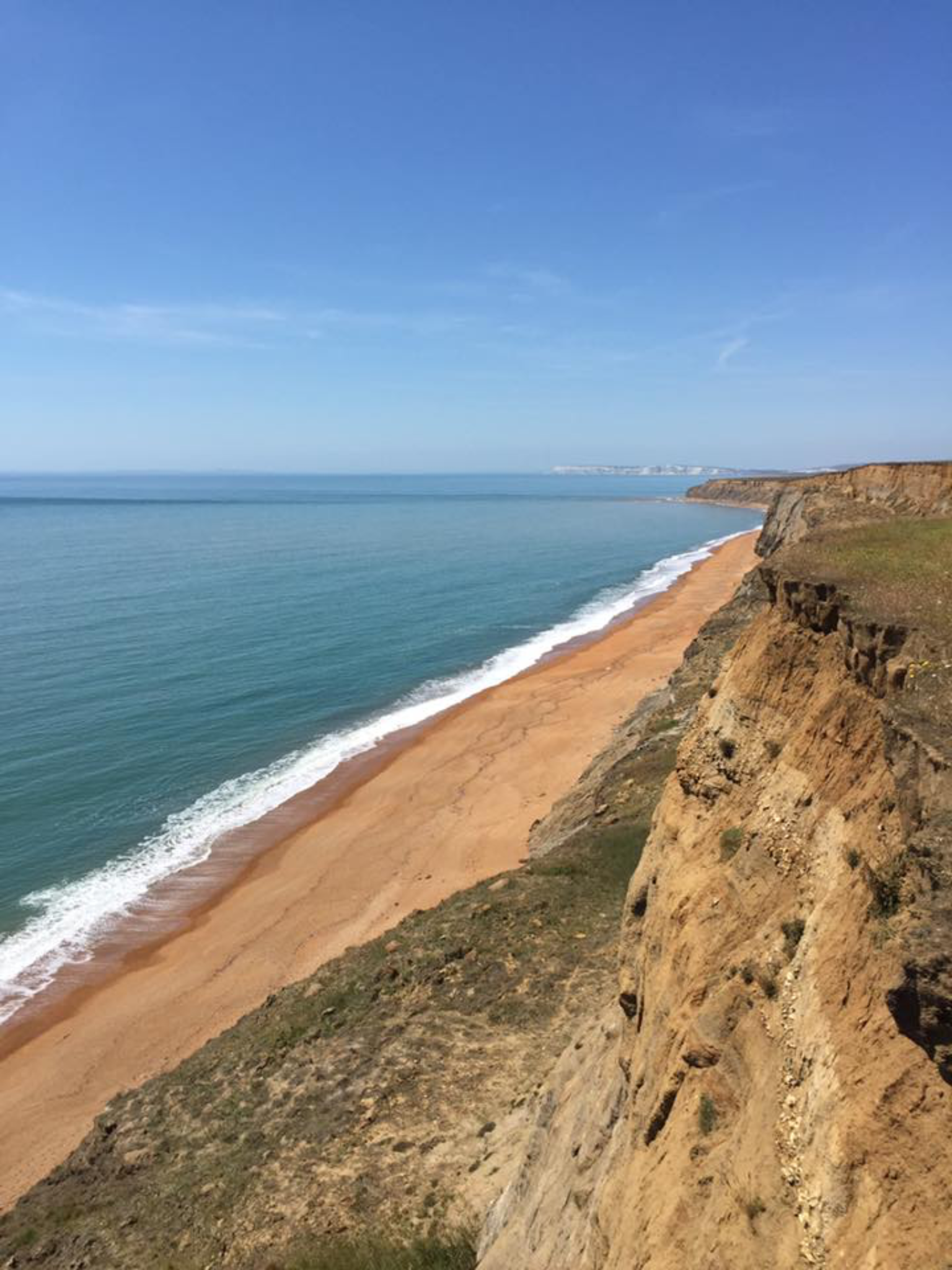 28 degrees the thermometers were now reading! What little breeze there was was blowing across the cliffs as Tim Howell, George Butler and Harry Rann set off for GHM and Dave Smith, Ian Dyer and Elaine Harris took their squeaky cakes and set off toward Blackgang and then Ventnor for IWRR.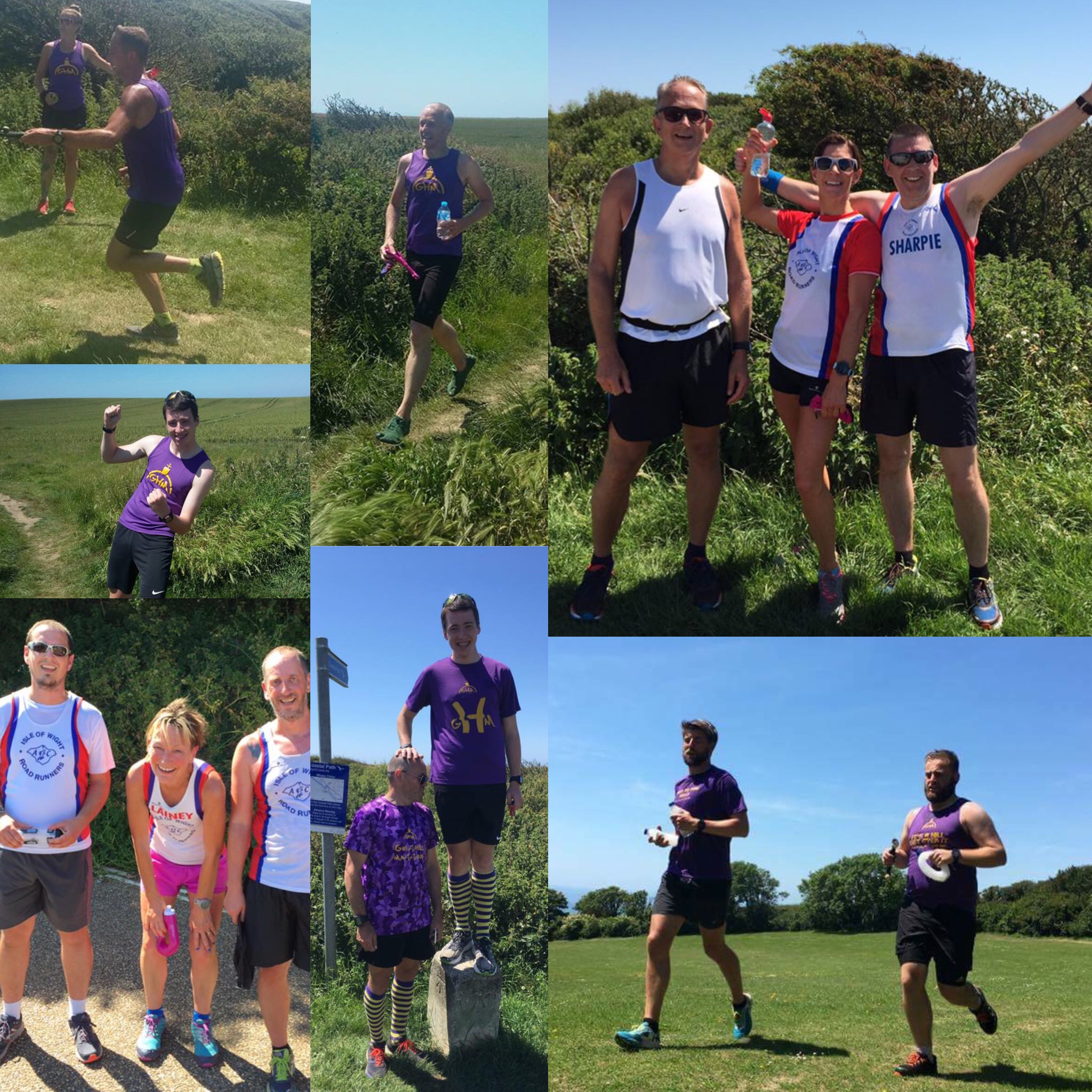 "HOT!" Exclaimed George when asked how his leg went "I was surprised I managed that pace off road and in the sun… probably my worst mix of conditions I could have hoped for!"
But they all smashed it! And made met their fellow team mates at La Falaise Carpark on on Ventnor Esplanade. Hayley Baxter set off first with a stylish exchange of their teams rubber chicken, followed by Tim Keyte, his daughter Abbie and Zoe Elliott (switching allegiance-naughty girl!) The IWRR went next with Jane Andrew, Nick Scott Denness and Charlotte Williams.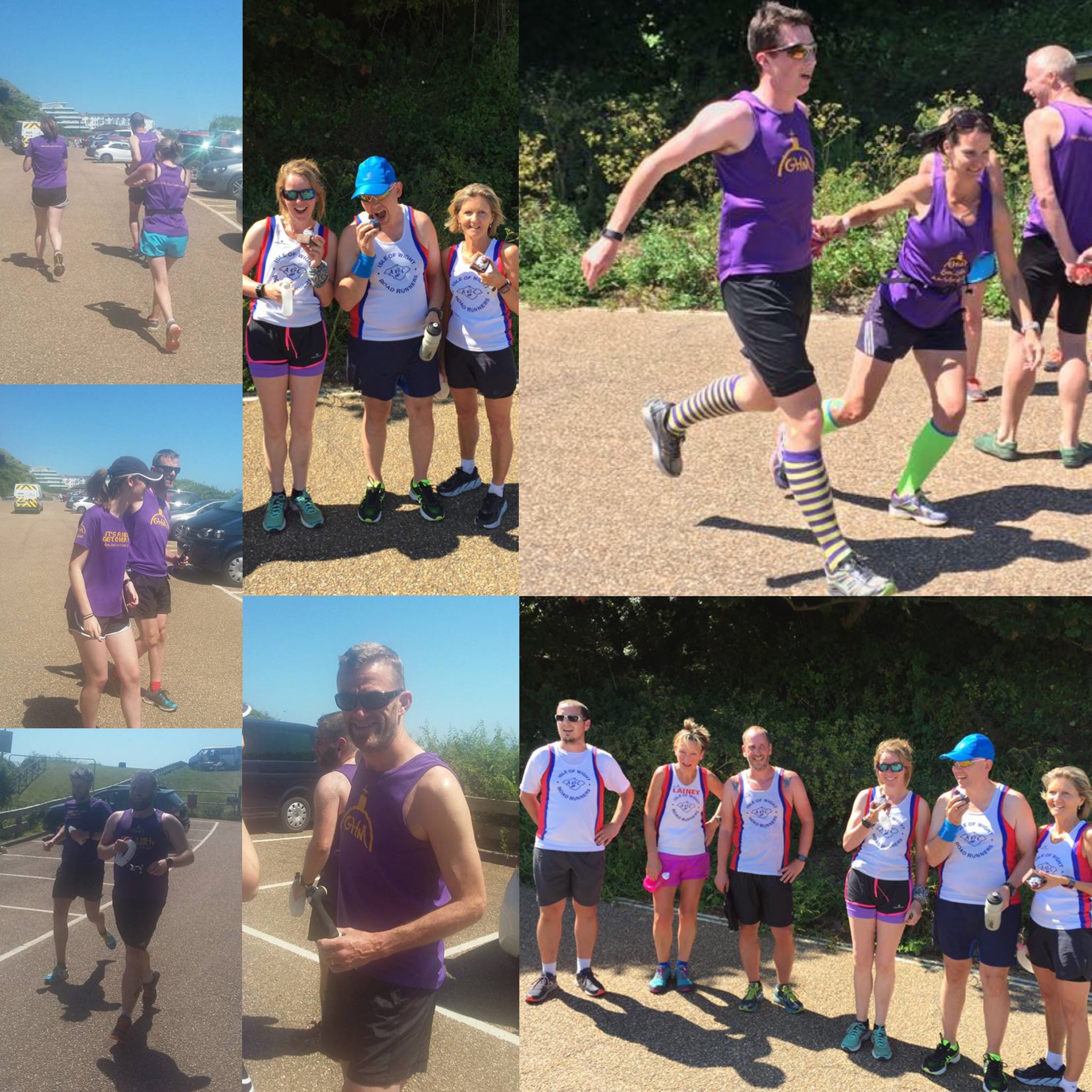 "We dived straight in the sea at Yaverland" said Jane
By now the teams were in the final quarter of the challenge. The leg from Yaverland through to St.Helens saw Simon Riley take the baton for GHM and Claire Howard, Sally Trotman and Rachel Dempsey for the Roadrunners.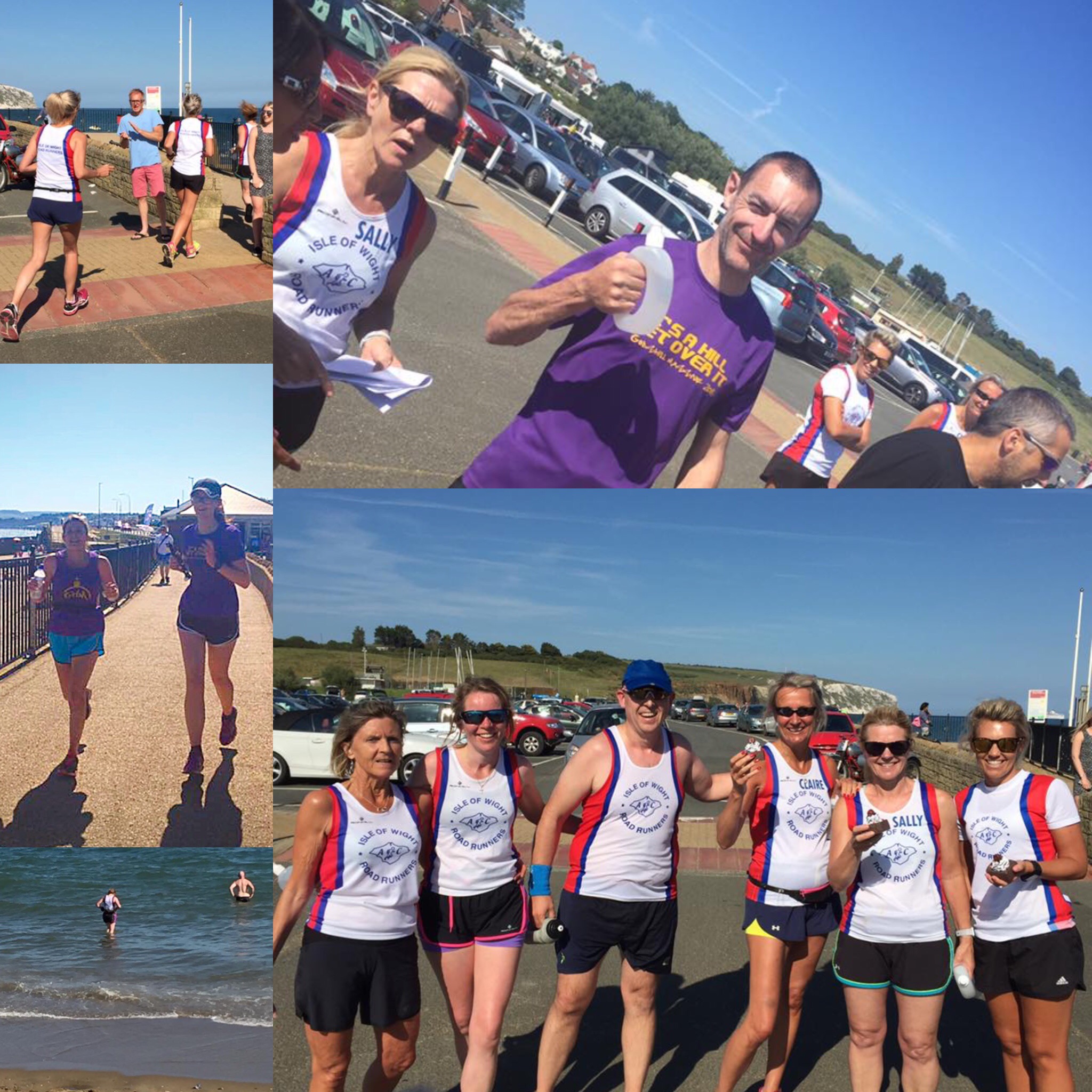 "We'd have definitely got lost without Rachel" said Sally
But they didn't, they successfully navigated themselves to Dean Pike and Danny Faulkner waiting at the Duver at St Helens, along with Tarnia Eldridge and her sister in law Rosie for the Massive.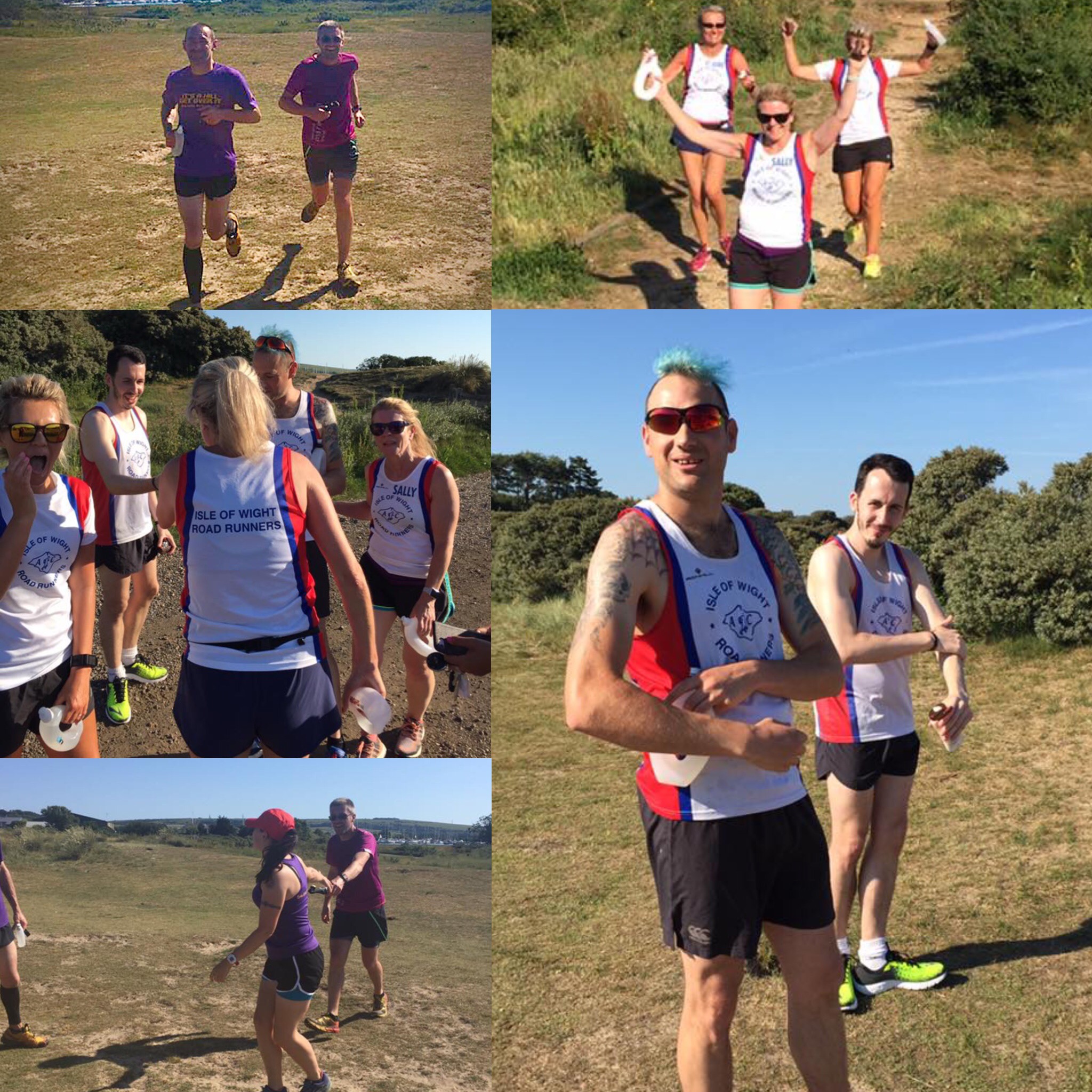 "That was beyond hot" said Tarnia afterwards "I normally love running in the heat but there was no air, especially in the leafy enclosed areas. I felt like I couldn't catch my breath"
But they all made it to Fishbourne and handed over for the final time. GHM set off with Lou Dover and Tim Howell (alongside many other of the teams runners to finish the relay in unison) and Steve Bennett, Alison Butcher and Bianca Johnston for team IWRR.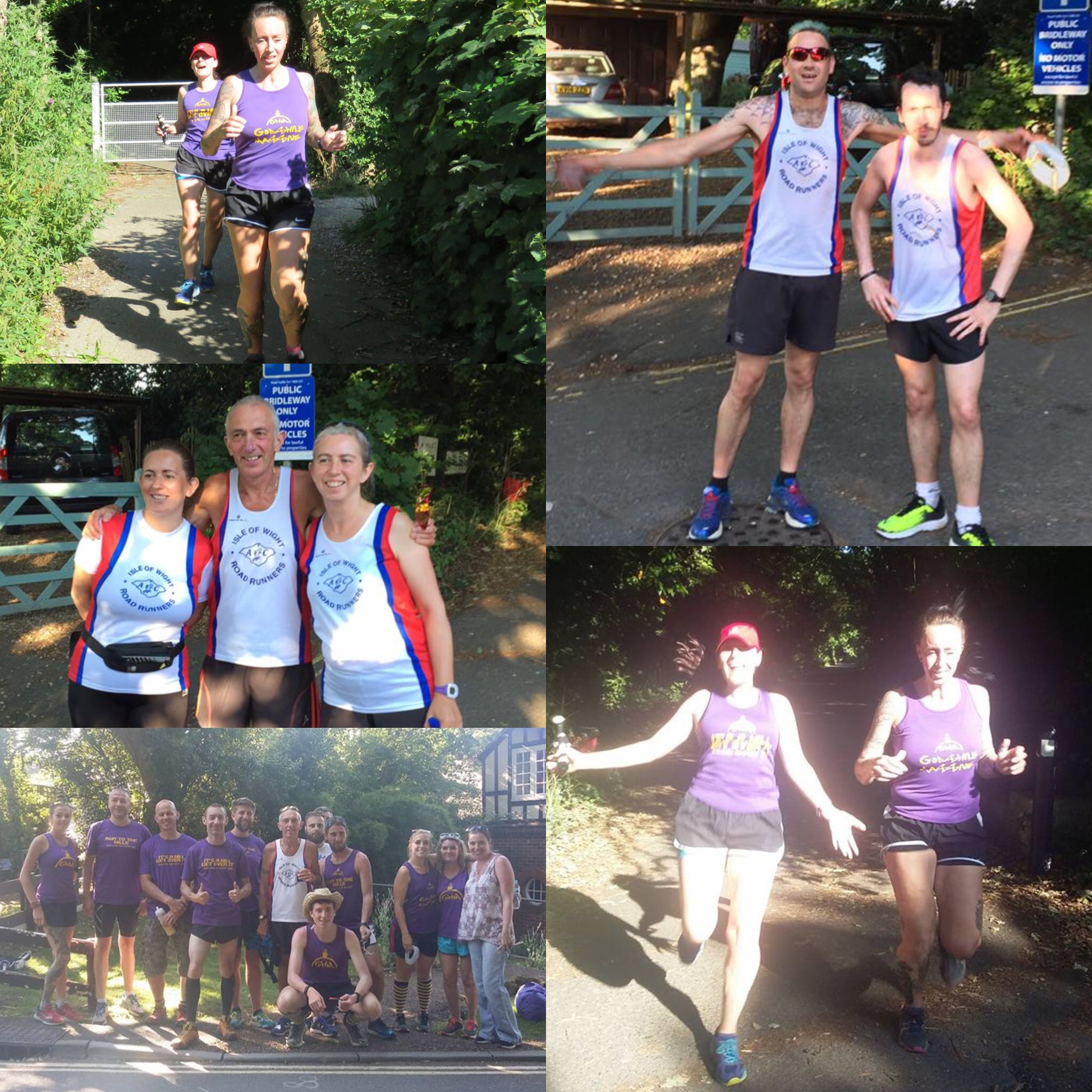 "We were squeaking our "batons" at all the cars on the way" said Alison "Even a dog out on its walkies was taking a keen interest in our high pitched cakes"
In they came, in ones, twos and threes (or 10 in the case of GHM) all with big smiles on their faces. Lots of fun and laughter along the way. Teamwork and cameraderie the order of the day and a fantastic turn out of Roadrunners spread across the 5 teams.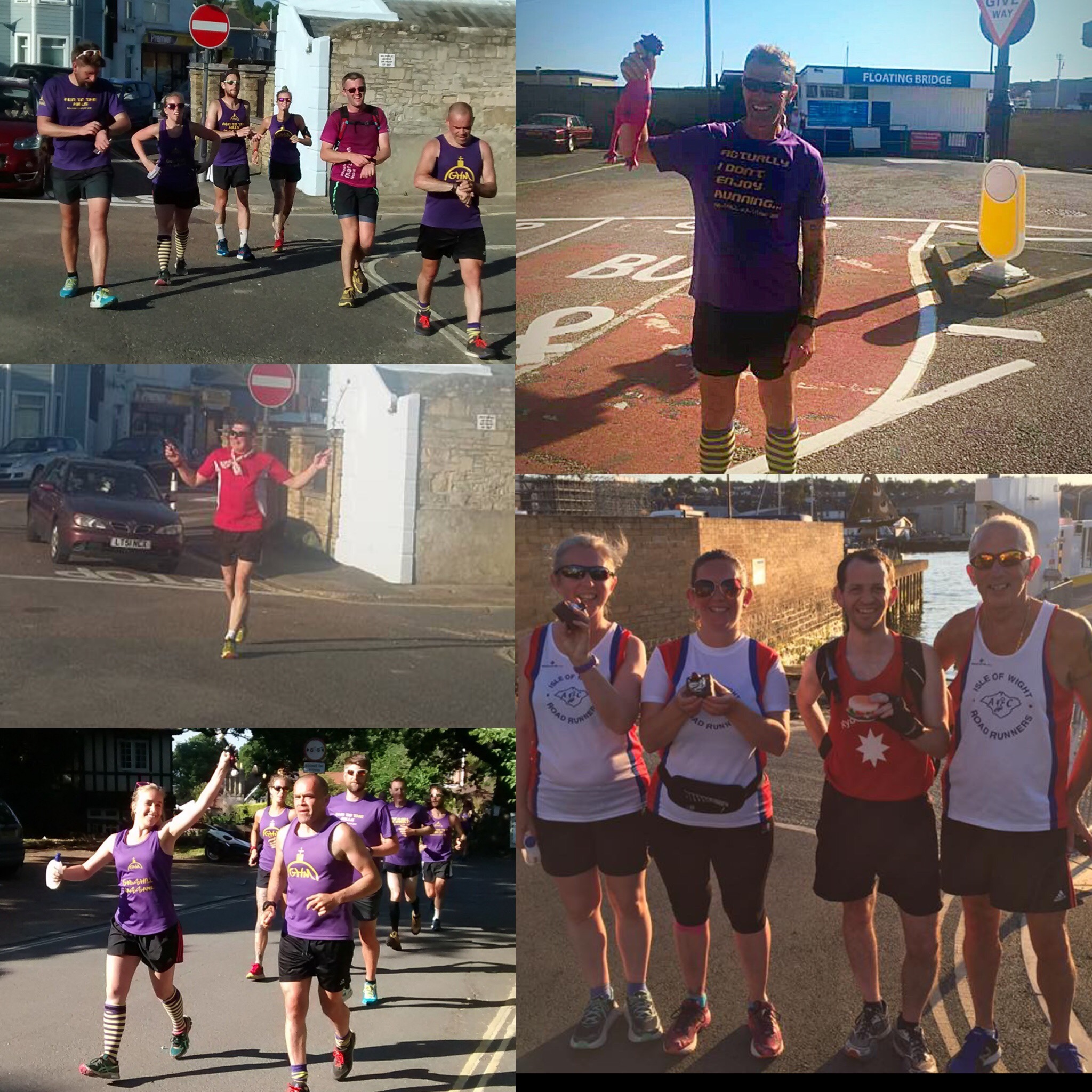 Massive thank you to Cherry Owens, Pat Harris and Michael Coultrup for their time organising this logistical endeavour. See ya next year!
Scores on the doors
1-GHM
2-GHM
3-Cherry's Chums
4-Ryde Harriers
5-Ryde Harriers
6-Isle of Wight Road Runners
7-Isle of Wight Road Runners
8-Isle of Wight Road Runners